Sadržaj kurseva / course content

Basic

After Effects Interface

Workspace
Panels
Tools panel

New Project

Start a New Project
Importing Footage and Organising Media
Importing Adobe Photoshop and Illustrator files
Layer Import Options
Replace Footage with a Layered Composition
Preparing Illustrator files

Building Compositions

Create a New Composition
New Composition from an existing file
Composition Settings
Layer Properties in the Timeline Panel
Trim or Extend a Layer
Split Layers

Creating Animations

Keyframe Animation
Anchor Point
Aligning
Auto Orientate
Roving keyframes
Adjustment Layers
Parenting
Precompose
Nesting

Create Text

Creating Titles
Character and Paragraph Settings
Text Animation Presets
Adjust Text Animator Properties
Source Text Animation
Text on a Path

Create Shapes

Create a Shape
Shape Layer Properties
Animating Shapes
Trim Paths
Repeater

Motion Tracking

Motion Tracking Overview
Track Motion
Null Object
Motion Tracker Settings

Effects and Presets

Browse Effects & Presets
Warp Stabilizer
Motion Tile Effect
Radio Waves Effect
Puppet Tool
Motion Sketch
Content-Aware Fill
Speed Change

Colour Correction and Grading

Basic Correction
Creative
RGB Curves
Hue Saturation Curves
Colour Wheels
Secondary Colour Corrector

Introduction to 3D

Working with 3D Layers
Cameras
Move the Camera through a Scene
Lights & Shadows

Save and Export

Save and Export
Adobe Media Encoder

 

30 hours total learning

40 hours full learning

50 hours including your final work, complete one project

The process to complete a video editing project start to finish

Use the many different Premiere Pro panel windows

Importing media & create custom sequence presets for different resolutions

File organization & workflows for efficient & professional video editing

Edit footage, images, music & audio together across multiple editing tracks

The basics of color correction and color grading

Create text titles, effects and lower third titles

How to speed up Premiere Pro CC with proxies to fix lag

Various video editing frame rates, resolutions & aspect ratios

Keyboard shortcuts to edit videos more efficiently

How to work with slow motion footage & how to speed ramp
30 hours total learning
40 hours full learning
50 hours including Camtasia learning
(Total 415 lessons)

Course Description
Learn how to create your very own platformer game using Clickteam Fusion 2.5, an industry-standard, rapid application game development tool from Clickteam used by many Indie Game Developers and Large companies worldwide.
In this game development course you will learn a lot of cool game development concepts but will also learn how to implement these concepts into your very own platformer game using the Platform Movement Object.
This course has been designed to be understandable by anyone including beginners,  to expand their knowledge of game design.
By the end of this course you will have developed the ability to:
•Import a Player Character and Enemies
•Assign Movement to the Player Character
•Assign Movement to the Enemies
•Player dangers such as Spikes, Gaps and Moving Enemies
•Level Design
•Title Screen Design
•A Basic Save and Load System
The Fusion 2.5

 

Interface
The Common Objects
Creating Active Objects at Runtime
Add Backdrops at Runtime
The Built-in Timer
Creating Objects by Name
Using Basic Variables in the Expression Editor
Score – Fade Effect
The Parallax Effect (Scrolling)
•Designing the first level
•Adding Music and Sound Effects
•Sound Effects Library Download
•Add a coin-collect special effect
•Add an Extra Life
•Lose Coin effect
•What is a Fastloop?
•Designing a Title Screen
•Adding another level
•Adding a Game Over screen and implementing it
•Section Review
20 hours of total learning
+ A Book as a gift:
Computing & Game
Design With Clickteam Fusion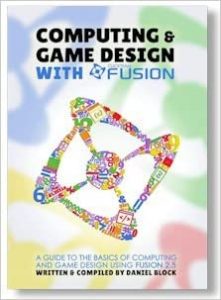 Cloud computing
je upotreba različitih servisa i platformi, servera, skladišta i softvera, putem interneta, koja se često naziva "oblak".
Zatražite pomoć našeg tima oko razumevanja svih termina u vezi Cloud computinga.